Wham!!! To win! by Mokkla
[
]
Champion
[
]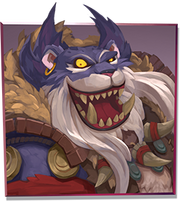 Troopers
[
]
Miracles
[
]
| | | | | | |
| --- | --- | --- | --- | --- | --- |
| | | | | | |
| Vacuum | Cleansing | Freeze | Stimulant | MassDisguise | Sewage |
Overview
[
]
-In a meta ruled by cheap, low hp units Murrakah can unleash his full potential by clearing up those pesky bunnies and scouters with his low cooldown skill Wham!!!, healing himself in the process.
- Support him by sending in Rappanossan Warriors followed by Gliptos Totemists to give him the opportunity to brawl against enemies if they decide to use more tanky units.
- When you gain the upper hand, start sending in Gliptos Rockslinger to quickly get rid of buildings and push for victory.
- On Table Cliff you can even use Vacuum and Murrakah's Wham!!! to throw units down the cliff, leaving them seperated from the enemies main army and giving you a perfect opportunity to pick them off with Rappanossan Asssassins at the shore.